CJ-5L Hot Water Dispenser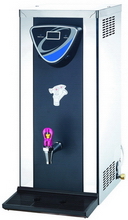 5L Table Top and Table Top & Wall Mounted
Main Features
Comes in 2 Versions: 1) Table-Top  2) Table-Top and Wall-Mounted
High heating power: 2400W.  Hot water is offered continuously.
Entire body is made of stainless steel, which is durable and resistant to rust.
The hot water faucet comes with a safety lever. It prevents accidental scalding in case children use it carelessly
CJ-5L is suitable for government buildings, schools, factories, hotels, restaurants or public areas where there is the need for constant hot water.
Specifications
Benefits of a Digital System
Digital System The heating system is controlled by digital controller Temperature Display via LED Display Constant Temperature When hot water temperature is down to 97℃, the system will heat the water back to 100℃ automatically. Internal Water level Sensor Automatically replenishing water when water is used.
Boiled Water Assurance When there is no power to the machine, water supply is cut off from the machine, thus, users will not drink any unboiled water
Energy Saving When there is no water from input, the power supply to hot and cold systems is automatically cut off
Cutting off the power supply automatically when water source is shortage. Cutting off the water source automatically when power is off. User won't drink any un-boiled water.
| | | |
| --- | --- | --- |
| Model | CJ-5L Version 1 | CJ-5L Version 2 |
| Type | Wall mounted only, Hot water only | Table top & Wall mounted, Hot water only |
| Dimension WxDxH(cm) | 23 x (21 or 30 inc faucet) x 48 | 26 x (23 or 30 inc faucet) x (62 or 64  inc feet)) |
| Power | Heating: 2400W | Heating: 2400W |
| Water tank capacity | Hot: 5L | Hot: 5L |
| Time to fill and heat water | 7 minutes | 7 minutes |
Downloads
Click below to download the manual.
Download